Self-isolation, social distancing and shelter-in-place orders during the coronavirus pandemic mean salons and barber shops are shuttering, and citizens are prioritizing their health over haircuts and hot stone massages.
Though many celebrities own mansions outfitted with home gyms, spa-worthy digs and personal staff, some are adjusting to the coronavirus quarantine by embracing DIY manicures and cuts, rugged beards and at-home hair color.
Real Housewives of Beverly Hills star Kyle Richards used her downtime to show fans how she touches up her own roots with a box of Clairol, as did Teri Hatcher.
But others are giving their natural gray hair a chance to grow. Kelly Ripa — who snuck in one last Botox appointment before self-isolating — exposed her gray roots on Instagram Stories after a week of staying home.
And on April 20, the talk show host — with mustache-sporting husband Mark Consuelos by her side — gave Live with Kelly and Ryan viewers a closer look at her graying roots, also admitting that she'd cut her own hair with kitchen scissors.
Kevin Hart also revealed himself to be a "frequent dyer" who is now leaving his "s***load of gray hair" alone.
Jim Carrey, meanwhile, announced his intentions to grow a beard "until we all go back to work," sharing a selfie of his facial fuzz. Others vowed to follow suit, while Game of Thrones actress Maisie Williams quipped, "Gonna do this with my armpits."Jim Carrey✔@JimCarrey
Day 1. I'm growing a beard until we all go back to work. I'll post reg pics so you can marvel at the miracle of my meaningless transformation. Normally, I try to stay on the cutting edge of entertainment. Now I shall conquer the uncutting edge. Please join me. #letsgrowtogether
181KTwitter Ads info and privacy17.9K people are talking about this
Will Smith also used his own hirsute moment to inspired a video montage featuring his memorable movie moments, digitally adding gray-flecked beards.
Former presidential candidate and recent Jimmy Kimmel fill-in host Pete Buttigieg also showed off some scruff.andrew kaczynski✔@KFILE
Pete Buttigieg is growing a beard.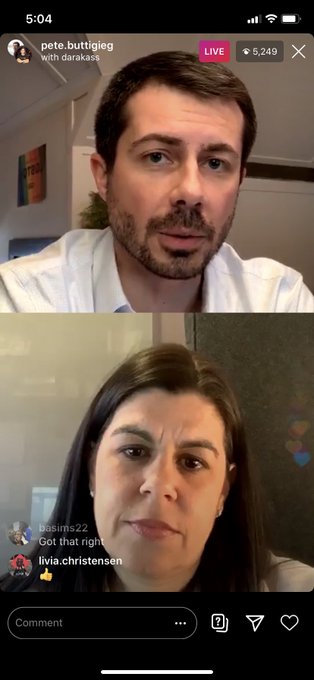 1,223Twitter Ads info and privacy391 people are talking about this
Though he's usually dispensing makeovers to other people on Queer Eye, reality star Jonathan Van Ness gave himself a grooming update while self-isolating. Van Ness documented his transformation as he shaved off his beard and full handlebar mustache.
Singer Pink also went for a crop — for better or worse. The pop star posted a video admitting that she drunkenly cut her own hair while at home, resulting in a slightly butchered pixie cut.
Blake Shelton is also leaning into his dramatic 'do: the "quarantine mullet." The country singer posted a video of girlfriend Gwen Stefani caressing his locks after shaving stripes above his ears.Blake Shelton✔@blakeshelton
Quarantine mullet update 3/26/2020… @gwenstefani has decided to take it to the next level.. Stripes.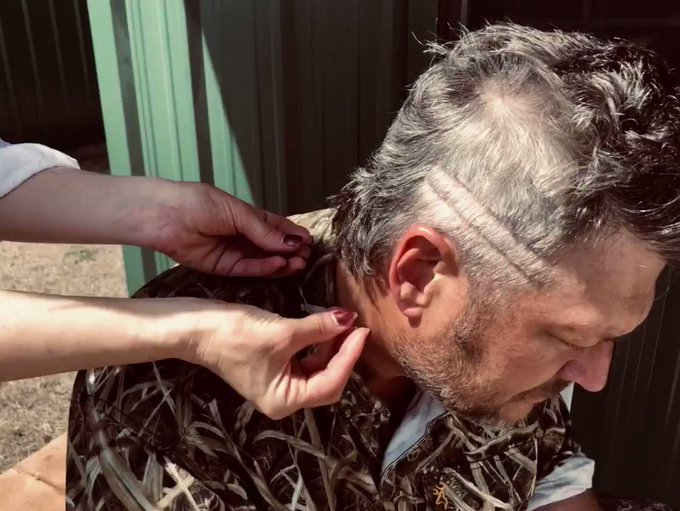 18.2KTwitter Ads info and privacy2,870 people are talking about this
Actor Anthony Rapp, meanwhile, went for a full buzz cut.Anthony Rapp @✔@albinokid
On a lighter note…quarantine haircut!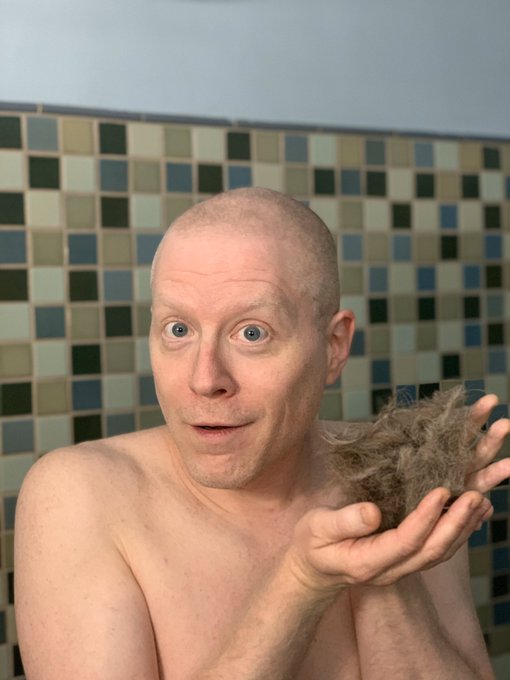 7,182Twitter Ads info and privacy960 people are talking about this
Though she's famed for her sleek high ponytail, Ariana Grande let her natural curls have their day. Gabrielle Union also showed off her natural hair, while Taraji P. Henson dipped into her own hair care line to give herself a curly, cherry-red makeover.
Nathan Fillion told fans he's been giving himself haircuts, while Stephen Colbert and Sonic the Hedgehog's Ben Schwartz are letting their hair reach new levels of volume.Ben Schwartz✔@rejectedjokes
Remember haircuts?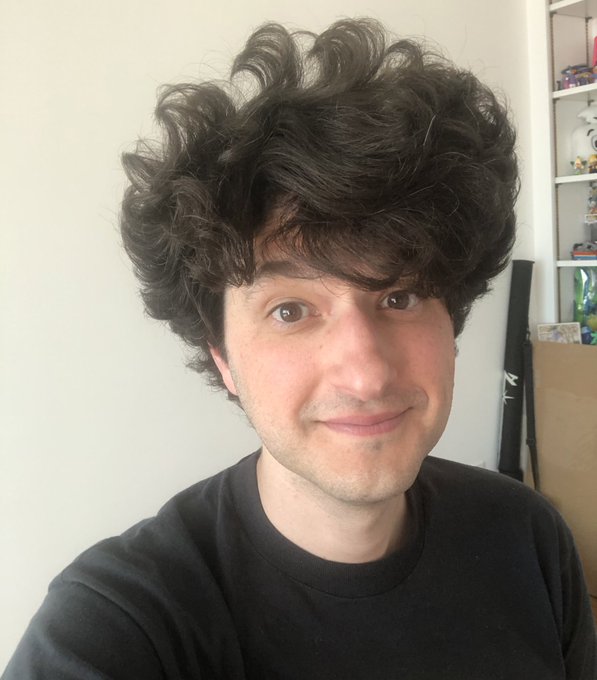 31.4KTwitter Ads info and privacy1,801 people are talking about thisStephen Colbert✔@StephenAtHome
I might need a haircut #HeatMiser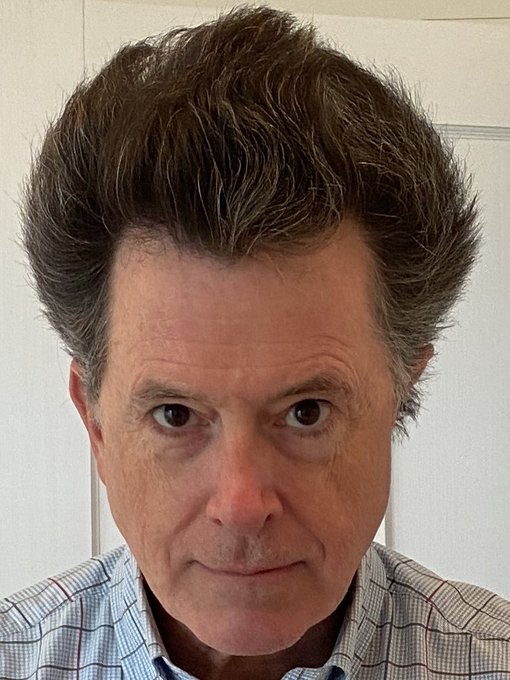 109KTwitter Ads info and privacy10.7K people are talking about this
While hosting his CNN show, Anderson Cooper admitted that he'd given himself a bald spot while trimming his own hair.Mike Sington✔@MikeSington
Anderson Cooper attempts quarantine haircut, gives himself a bald spot.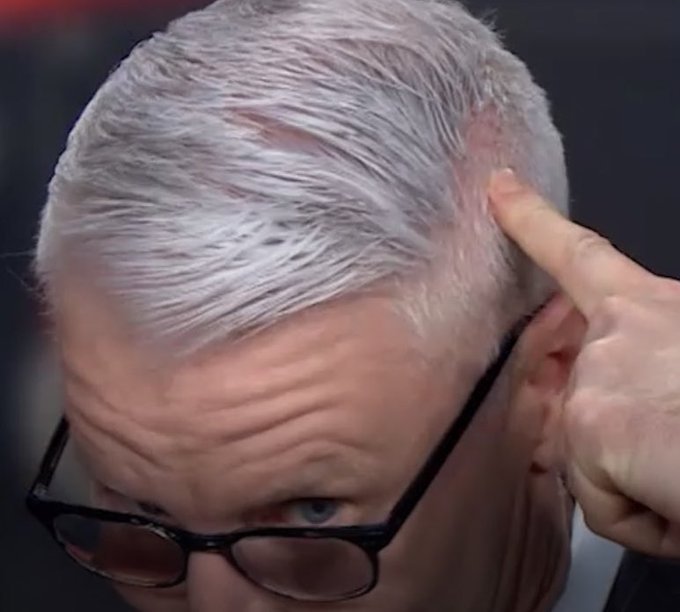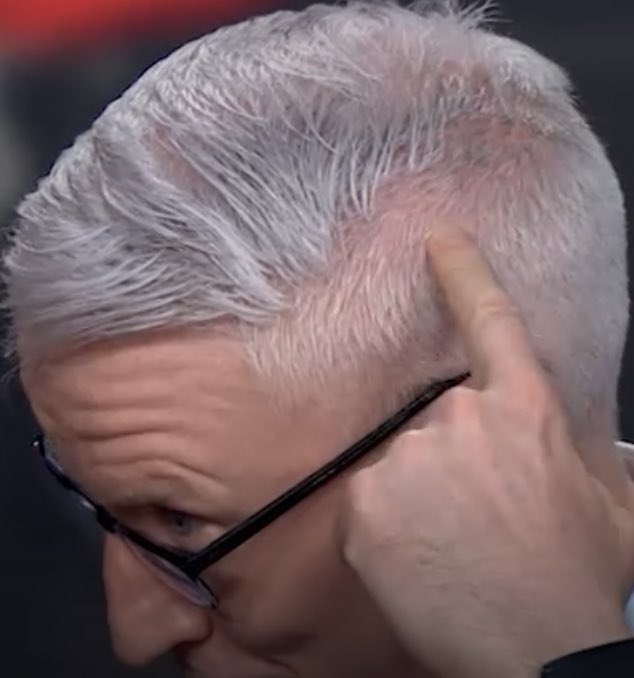 16 · Los Angeles, CATwitter Ads info and privacySee Mike Sington's other Tweets
And actor Armie Hammer seems to be taking style cues from Tiger King, unveiling a dramatic horseshoe mustache and curly mohawk on Instagram.
Chris Noth also reached for the razor, shaving off his tousled locks after realizing that "dealing with hair was superfluous during these times of quarantine." Former Sex and the City co-star Sarah Jessica Parker praised the look on the actor's Instagram.
Dancing with the Stars pro Val Chmerkovskiy let wife Jenna Johnson chop off his ponytail.
And over at Oprah Winfrey's house, longtime companion Stedman Graham is keeping their quarantine crew trimmed.
Paulina Porizkova shared an up-close shot of her "quarantine hair color." Today's Jenna Bush Hager got a step-by-step professional tutorial over video call as she touched up her own roots, and Dua Lipa is dabbling with a whimsical pink hue.
Over at the Blake Lively-Ryan Reynolds households, his-and-hers makeovers were in effect. The former Gossip Girl star showed off an at-home color kit she hoped her husband could master to keep her long blonde locks looking immaculate. Reynolds, meanwhile, has taken to sporting a baby ponytail (complete with miniature scrunchie).
Emily Ratajkowksi, however, nailed her own DIY cut.
Not everyone is ready to give up their creature comforts while cooped up, however. A home-bound Ashley Graham showed off bold eye makeup on Instagram, telling fans that "getting ready and feeling like I am in my routine for a few minutes of the day gave me a short escape from the brain fog I've been feeling."
Originally Published on Yahoo Entertainment