Dionne Warwick's musings on Chance The Rapper and The Weeknd are turning into tangible benefits — they're getting together to help feed the hungry.
Here's the deal … Dionne and Chance are working together on an initiative to feed homeless people, after starting a friendship on Twitter. Chance announced Tuesday on Windy City LIVE in Chicago they'll be raising money with a new song — and TMZ's learned The Weeknd will be joining them for the collab.
Dionne's son, Dionne Damon Elliott, tells TMZ … he's writing and producing the track, which is called "Nothing's Impossible." DDE says The Weeknd decided to get in on the action after a phone call with Dionne, where he expressed how food insecurity is personal for him. The Weeknd was once homeless himself.
https://www.tmz.com/videos/2020-12-15-121520-chance-the-rapper-4899173/
We're told money from song streams will benefit Hunger Not Impossible … an org connecting folks in need with prepaid, nutritious to-go meals from local restaurants all over the country.
DDE says the track will drop early next year … they haven't nailed down a release date because production is in the early stages. We're told Dionne's sent some of her vocals over to Chance and The Weeknd.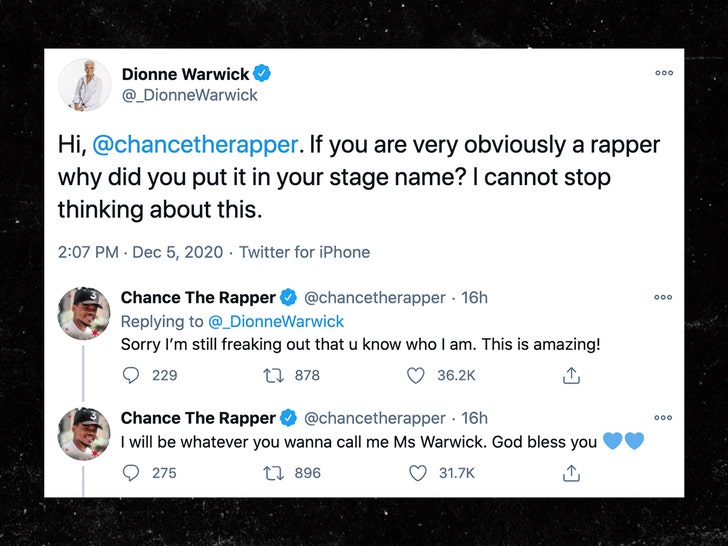 It's pretty cool … this whole collab started from Dionne's now famous tweets asking both artists about their stage names. Ah, the power of social media.
https://www.tmz.com/2020/12/15/dionne-warwick-chance-the-rapper-the-weeknd-song-collab-raise-money-hunger/