n a scale of 1 to parched, Outer Banks is undoubtedly Netflix's thirstiest show at the moment—unless you're attracted to Joe Exotic's mullet, in which case, please call 911. Outranking the likes of Tiger King and Waco, Outer Banks' sudden popularity among teenagers and very bored adult women (hi, me) should be obvious: The show delivers pure escapism at a time when most of us are trapped at home. Yeah, there are some plot holes, but said plot involves a fleet of horny teenagers hunting for $400 million in gold while trying to avoid ~murder most foul~, so I'll take it.
It'd be easy to write off Outer Banks as a soapy teen drama, but IMO, it's a smart show with a deep understanding of the tropes that make soapy teen dramas so fun. Outer Banks draws on the adventure in The Goonies, the friendships in Dawson's Creek, and the romance in literally every Nicholas Sparks movie ever. Which brings us to Sarah and John B. Unlike the Royal Merchant, Sarah and John B's 'ship is unsinkable (apologies) and, more importantly, the audience believes in them as a couple. And that's entirely due to Madelyn Cline and Chase Stokes' real-life chemistry. Cosmopolitan spoke to Madelyn about vibing with Chase, quarantining with her castmates, and what it was like to film the wettest onscreen kiss since The Notebook.

GIPHY
What was it like filming that completely iconic rain-soaked kiss?
"Kissing onscreen is very awkward because you have to worry about angles and you have to worry about where the camera is and you have to remember where your head was in this moment. It's very…it's a little nerve-racking, and at the same time, you have to make sure you're not eating each other's faces. It still has to look good. It definitely wasn't a one-and-done."ADVERTISEMENT – CONTINUE READING BELOW
Was the rain planned or just amazing timing from the universe?
"We were looking at the radar and it was showing that it was going to be raining for hours. [Director Cherie Nowlan] was like, 'I think we might have to call it, there's no way.' And I remember Chase, [creator] Jonas [Pate], and I kinda looked at each other and we were all like, 'Let's do it. We gotta do this. This is amazing, this is kismet right now, that is so romantic.'
"We made sure with our camera department and everybody that it was okay, because you're asking a lot of people to stand out in the rain….[The crew] was like, 'Hell yes, we're doing this, full Notebook vibes.' And, yeah, so we just dedicated the entire day to making sure we did that scene justice."
TUMBLR
There's a moment when Sarah and John B finally get hot and heavy, but then the scene ends! What went into that decision?
"That was a choice that Valerie Weiss—our director for 7 and 8—Chase, and myself made. We wanted there to be a differentiation between the scene with Topper and the scene with John B. It was dictated in the script that Topper and Sarah are getting pretty hot and heavy, and there's a little bit of partial nudity going on.
"In episode 3, I believe, you see Topper really, really driving that whole interaction with her. You see him really pushing for this. It's obvious that he's asked if she wants to go to third base and it's obvious that she's said no in the past, and he's kind of pushing the pen a bit. She says yes, and then all of a sudden, you see her have this moment panicking, and she's like, 'No, no, no, this is too much.'
"With the scene in the bell tower, we could have taken it further—and Valerie obviously asked, she asked if I wanted to. But I told her I really wanted it to be really sweet. I wanted Sarah to be the one driving it so that we see that difference."
What can you tell us about (*fingers crossed*) season 2? Would you be down?
"I mean, I am for sure down to do a second season. The answer to that will always be yes. We as a cast have talked about it, and we've kinda talked about where we'd like to go with our characters and explore—but we don't really know. Which is really cool, because we're kinda going into it as a blank slate, kind of like we did last year. So it gives us that room to explore with characters and each other, and especially because we know each other so well now, it'll be great to kinda sit down and explore character dynamics with each other."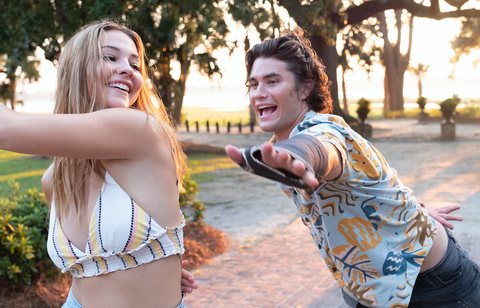 NETFLIX
Did you guys get close during filming, considering you shot on location?
"I mean, Charleston's not too big to begin with, but we all made an effort to live close together so that we could carpool or do things on the weekends together. Every Friday, Saturday, and Sunday, we were always together—we were going to the beach, we were playing spike ball, we were at the pool, we were at the park. We were always together, and what's crazy is that even though you're gonna have little tiffs here and there, for the most part, we never really got sick of each other. We all just kinda became this big family. And it just felt like the never-ending summer camp for adults."