Matt James is the first black Bachelor.
The big announcement was made on Friday's Good Morning America and on social media. It will be the first time in the ABC show's history — now going into Season 25 — to have a male black lead.
"Hopefully this is the first of many black men to be in the position I'm in now," James said on GMA.The Bachelor✔@BachelorABC
It's official…your next Bachelor is @mattjames919!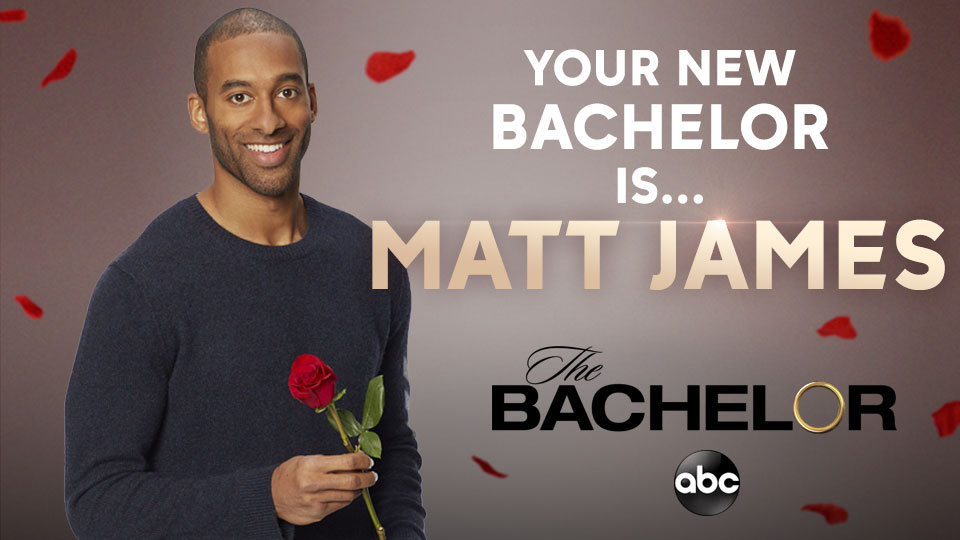 31.2KTwitter Ads info and privacy6,390 people are talking about this
Rachel Lindsay, who was the first black Bachelorette in 2017, appeared on GMA and said she had hoped to be a "trailblazer" and that more diversity would follow, but it didn't happen. She has been the sole black lead in 40 seasons of both shows.Good Morning America✔@GMA
FIRST ON @GMA: The new @BachelorABC is Matt James.

Season 25 of "The Bachelor" is scheduled to premiere in 2021. https://gma.abc/3hlci2T #TheBachelor #BachelorNation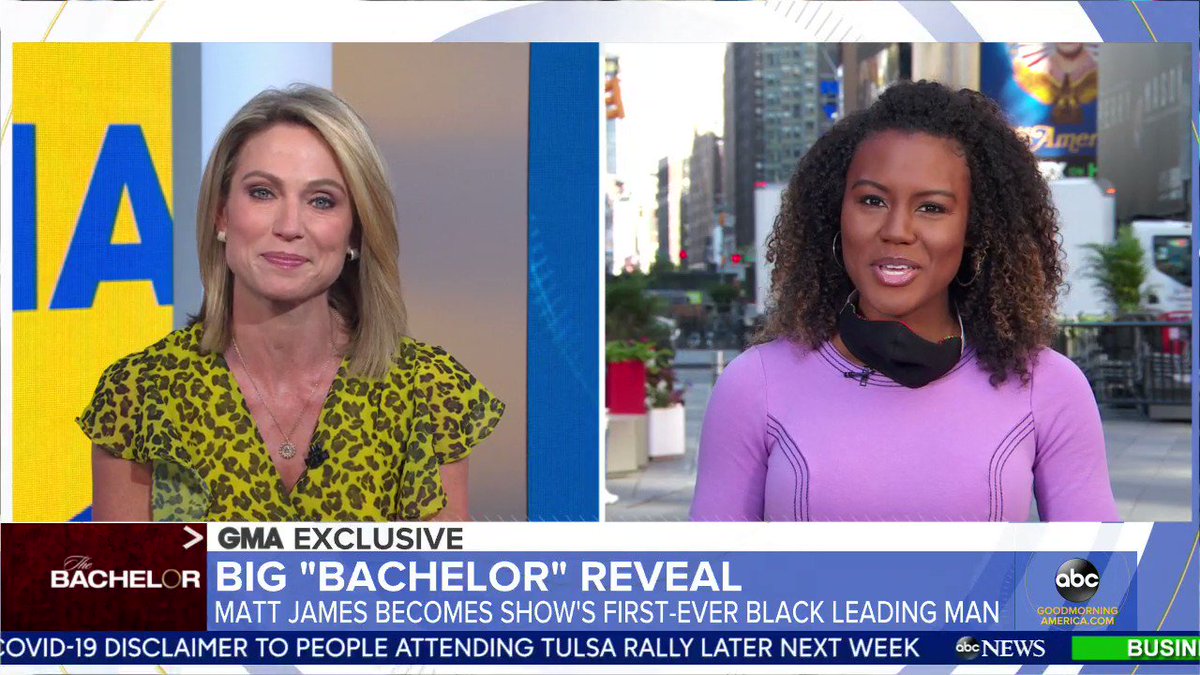 1,090Twitter Ads info and privacy336 people are talking about this
Lindsay wasn't alone in calling for diversity on the show. More than 85,000 fans signed a petition — created four days ago amid the national protests demanding racial equality — calling for "anti-racism in the Bachelor franchise." The petition calls the lack of diversity "unacceptable," saying it should "reflect and honor the racial diversity of our country — both in front of and behind the camera."
James, 28, was originally cast as a suitor in Clare Crawley's upcoming Season 16 of The Bachelorette, which was scheduled to premiere in May but was postponed indefinitely due to the impact of the coronavirus pandemic.
Karey Burke, president of ABC Entertainment, said in a statement to GMA, "Matt has been on our radar since February, when producers first approached him to join Bachelor Nation, as part of Clare's season. When filming couldn't move forward as planned, we were given the benefit of time to get to know Matt and all agreed he would make a perfect Bachelor."
So now he won't be on Crawley's season, Rob Mills, who oversees reality series for ABC, said.
"He would have been on Clare's season if it started in March," Mills told Variety. "When we realized the shutdown was going to extend through the summer, we started thinking about how we were going to choose our Bachelor. Matt was somebody who was on our radar and we were thinking about him. We were thinking do we announce him early, or do we put him on Clare's season and then announce him later, if it doesn't work out with Clare? We didn't make a final decision until recently, but this has been talked about for quite some time."
For his part, James said, "I don't think it's ever the wrong time to do the right thing … We can't have change until you put that first foot forward — and that first foot forward for The Bachelor franchise is having a black lead. So I'm excited to take on that role."
James called his new job "an honor." He said he's going to "lean in to myself and how my mom raised me." He said, "When people invite me into their homes on Monday night, they're going to see that I'm not much different from them — and they'll see that diverse love stories are beautiful."
Lindsay, whom James applauded for being a leader, said on GMA that she hopes this is just the start of change on the show in terms of diversity.
"I want producers of color," Rachel said. "I'd like for them to cast leads that are interested in dating outside of their race that aren't just getting their first-time experience for the first time on national TV. I need the acknowledgment of that. Not putting a Band-Aid over the situation and just saying, 'Here, we're going to put this here. Are you happy now?'"
Burke promised it was just the start, saying in the statement, "We know we have a responsibility to make sure the love stories we're seeing onscreen are representative of the world we live in, and we are proudly in service to our audience. This is just the beginning, and we will continue to take action with regard to diversity issues on this franchise. We feel so privileged to have Matt as our first Black Bachelor and we cannot wait to embark on this journey with him."
Mills insisted that James's casting isn't merely for "checking off a box" with a black Bachelor. Instead, "it's been a long time coming."
"We could have made this announcement earlier or later," Mills said. "Certainly no one is blind to what is happening in the world, so hopefully this announcement serves as a bit of optimism during a time that we can really use this. But I don't want this to look like we're patting ourselves on the back or taking a victory lap. We don't want this, in any way, to seem like a cure-all and seem like, 'Hey! Look what we did here!' We know this is a few grains of sand in a very big hourglass."
It's been noted that Bachelor Nation is already familiar with James, who is friends with Tyler Cameron from Hannah Brown's season of The Bachelorette. James also had a large social media following (190K Instagram followers, now up to over 300K and counting.)
Brown cheered the news, calling James "as good as it gets":
Of course, no one is ever fully happy with a casting decision and many have been saying on social media on Friday that Mike Johnson, who also appeared on Brown's season and was nearly The Bachelor last season, should have been the lead.
This article was originally posted on yahoo.com/entertainment/.