https://www.tmz.com/videos/2020-12-20-122020-shaq-4901308/
Shaquille O'Neal says everyone needs to chill about his "booty" comment to Megan Thee Stallion — saying he was just showing love, not trying to smash.
People went crazy recently over a comment Shaq left while watching Megan Thee Stallion twerk it out during an Instagram Live.
The comment? "Watching that booty."
Yeah … even his son, Shareef, commented … saying, "I feel you pops."
So, was Shaq shooting his shot? The Diesel says it was just a compliment and nothing more.
"This is what happened America … I was in [the IG Live session]. Somebody said, 'What are you doing in there?' And, I typed what I typed. I wasn't trying to hit on her."
When asked if Meg responded to Shaq's comment, O'Neal downplayed it … saying, "I don't know, I didn't even check."
Mmmmmmmhmmmmm …
There's more … Shaq also heaped praise on LaMelo Ball— saying the #3 overall pick in the 2020 NBA Draft is straight ballin' right now.
He's right — did you see that pass Melo hit during a pre-season game the other day? Good lord!
And, to cap it off … Shaq also tried out a motorized tricycle (also called a standing scooter) — and props to whoever made it, because it ran with some zip, even with a giant like O'Neal riding on it!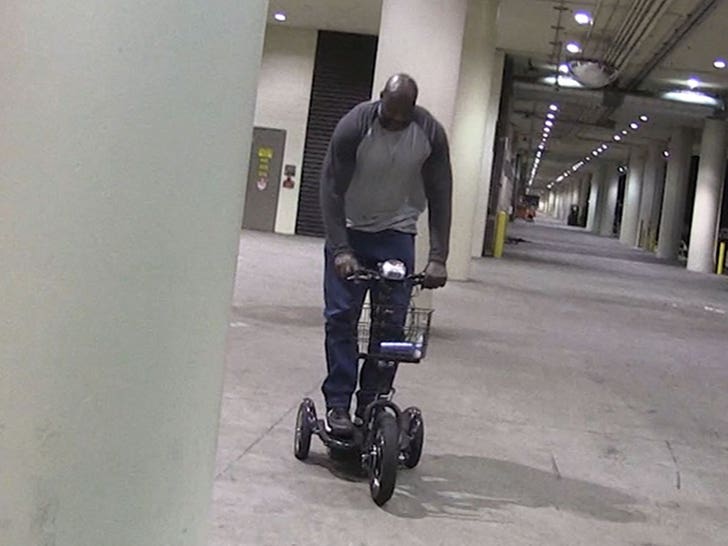 https://www.tmz.com/2020/12/21/shaquille-one-megan-thee-stallion-lamelo-ball-scooter-shareef/