She continued, "One of my favorite self-help books is Codependent No More… even if you're not technically codependent, just not allowing your happiness to rely on someone else's, I think is a huge thing. Because I was like, 'I'm so independent. I'm good,' and I was reading that book and I was like, 'Nope, I am absolutely codependent.'"
In a candid YouTube interview with Charlamagne tha God, Davidson spoke out for the first time about his relationship with Gerber (or, as he calls her, KG) and why they broke it off.
"We were dating for a few months," the SNL comedian said, per People. "She's very young, and I'm f—ing going through a lot and it was before I went to rehab. … It's just like, she should be having fun. She shouldn't have to worry about some dude that just has issues and s—. She should be enjoying her work."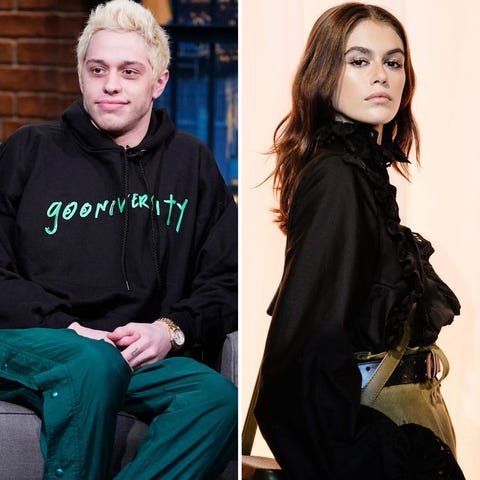 GETTY IMAGES
---
Pete Davidson is rumored to be dating yet another girl who's way out of his league.
The Internet has found fodder to fuel yet another whirlwind of a celebrity romance, this time taking shape in the 26-year-old Saturday Night Live comedian and 18-year-old model Kaia Gerber. From lunch dates to suspicious necklaces, we get to the bottom of these rumors once and for all.
Kaia admits that she's been "codependent" in relationships.
During an Instagram Live chat with Lena Dunham, Kaia Gerber opened up about codependency. The model said, "I've always kind of been the person who's like, 'I'll let everyone else be sad.'"
He added that he was grateful to her parents, Cindy Crawford and Rande Gerber, for assisting him. "It just wasn't the right place or the right time at all," Davidson continued. "Her parents were really helpful and stuff, so they're cool."