The Duchess of Cornwall is continuing to work from home—her home in Scotland, that is. She and Prince Charles have been staying at Birkhall, their residence on the queen's Scottish estate, amid the coronavirus crisis, and have continually shared updates on their life up north.
This morning, Clarence House (the couple's official residence and office) released a new image of Camilla keeping up with her royal duties. The duchess, holding her dog Beth, was photographed while on the phone with Silver Line founder Dame Esther Rantzen and a 90-year-old named Betty.
Betty is a regular user of Silver Line, a helpline for the elderly, of which the duchess is a patron. She's been writing to Camilla since the duchess visited the Silver Line in Blackpool in 2017.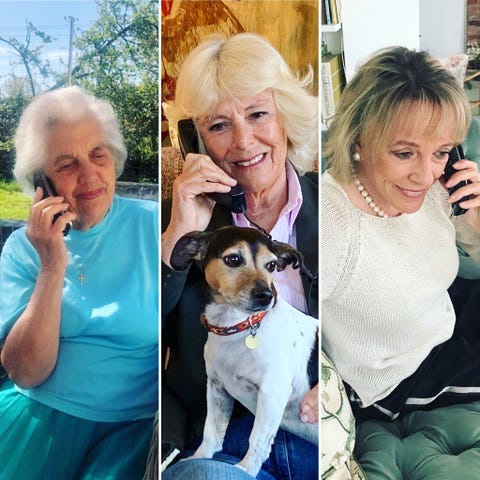 A composite of Betty, Camilla, and Esther on the phone.CLARENCE HOUSE
But what will be particularly interesting for royal watchers is the background of the photo, which offers a rare glimpse of Birkhall's interior. The wall is draped in an overlarge tapestry (sadly, it's not clear from this photo if it's depicting a scene, or just abstract). Above Camilla's left shoulder, there's a painted portrait of a young Charles placed on a diminutive easel, next to a hard-to-decipher photo with a second image placed inside the frame (lots of little kids… Camilla's grandchildren, perhaps?!).
The true pièce de résistance, however, is placed on a side table on the other side of the room. There, a little squirrel sculpture sits in contemplation, peering through his little glasses. A trinket for the ages.
Of course, it shouldn't be all that surprising that a squirrel has prime placement in Charles's home. Back in 2018, Prince William revealed that his father taken quite a liking to the forest creatures. "He is completely infatuated by the red squirrels that live around the estate in Scotland—to the extent that he's given them names and is allowing them into the house," William said in Country Life magazine.
The Prince of Wales didn't deny it. "They come into the house at Birkhall and we get them chasing each other round and round inside. If I sit quietly, they will do so around me," he said. "Sometimes, when I leave my jackets on a chair with nuts in the pockets, I see them with their tails sticking out, as they hunt for nuts—they are incredibly special creatures."