Prince Harry and Meghan Markle are expected to hit many more red carpets once it's safe to do so again.
Royal expert Myka Meier believes Meghan will get back into acting but will be super selective.
The royals previously attended The Lion King red carpet and met Beyoncé.
---
Today wasn't filled with the best updates for Meghan Markle, who just lost major ground in her tabloid lawsuit, but there is some good Meghan-related news to get excited about. Apparently, royal fans should expect her to make more red carpet appearances in the future! IDK about you, but the thought of seeing Meghan and Prince Harry walk the Oscars red carpet or sit at the Givenchy Met Gala table might just carry me through at least the next, like, eight hours.
Obviously, nobody is hosting or attending red-carpet events these days, but royal expert Myka Meier thinks that once it's safe to do so, the Sussex fam will grace them with their presence. Talking on the Royally Obsessed podcast, Meier discussed what she thinks Meghan and Harry will do with their newfound freedom, and it sounds like Hollywood is calling their name.
She said, "I think we'll see Meghan back in acting in terms of major motion films. I think she'll be choosy, of course, but I think we'll see a lot of them." Fingers crossed that actually happens because as good as Meghan's previous roles may be, I need to find other Meghan content to watch besides Suits, Deal or No Deal, Disney's Elephants, and that scene where she's a FedEx employee in Horrible Bosses.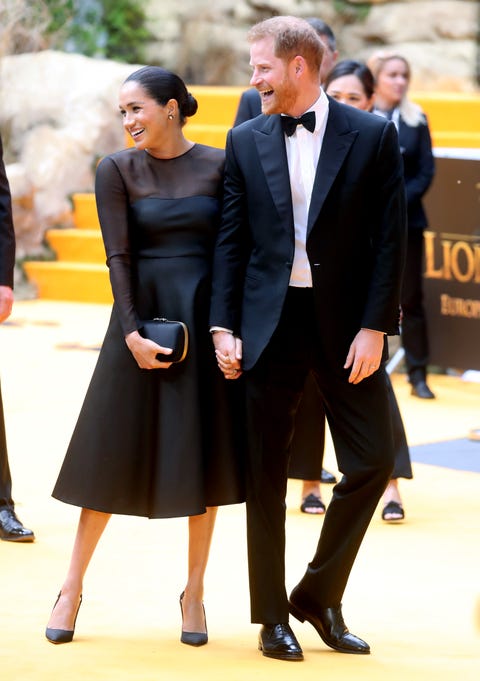 CHRIS JACKSONGETTY IMAGES
Meier then added that while she thinks Meghan will be selective about her roles, she and Harry will be a little more lax when it comes to which events they attend. "As soon as there are red carpets again, I genuinely think they will be on every major red carpet," she said.
I mean, one can certainly hope that will be the case! During one of their last red carpets, Meghan and Harry met Beyoncé, and I, for one, would like to see more of that. Please and thank you!