Matthew McConaughey caught Today hosts Hoda Kotb and Savannah Guthrie gushing about how hot he is when they were on a commercial break.
They didn't realize Matthew could hear, LOL.
Fans who tune in to the Today show to catch the morning news and laugh along with the hosts were treated to an extra-embarrassing moment from Hoda Kotb and Savannah Guthrie this week.
Since we are all stuck inside and have to social distance, the hosts have to film their show remotely and air Zoom conference–like segments. And while we all have to deal with our own sets of problems during this time, getting used to new forms of technology seems to be a common issue for most people. In Hoda and Savannah's case, when they were gearing up to interview Matthew McConaughey about wearing face masks, they didn't realize their audio was still on and he could hear them gushing about him during a commercial break.
When they came back from the break, Hoda, Savannah, Craig Melvin, and Al Roker took viewers step by step through the whole thing. Hoda started out by laughing and saying, "Savannah and I were having a little conversation during the commercial break, and Matthew was listening, so we'd like to apologize." And Savannah added, "Yeah, it was embarrassing. Matthew, sorry you had to hear us talking about you that way, but it's all good."TODAY✔@TODAYshow
.@McConaughey is out with a new PSA where he shows off his Spanish skills to help spread a message on fighting coronavirus.

He also tells us a bit about home life and how he's been dealing in quarantine, "we don't have any idle time" he says.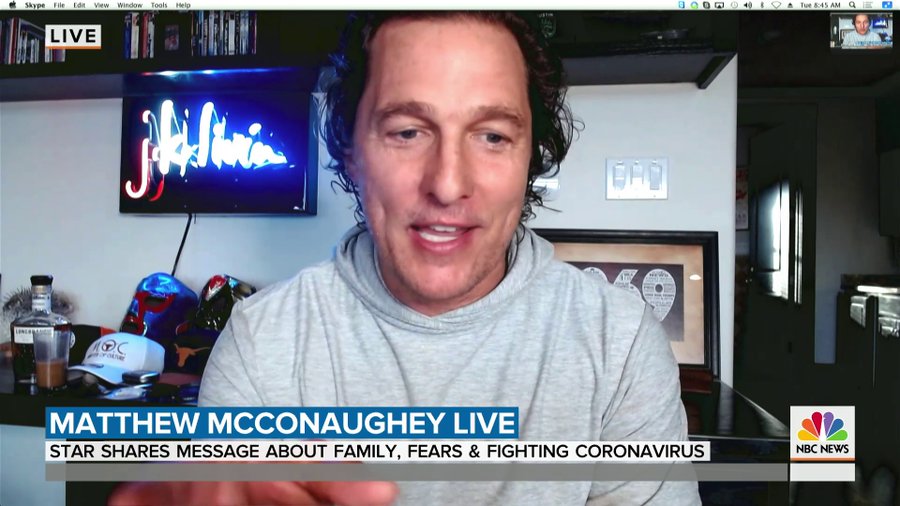 132Twitter Ads info and privacy29 people are talking about this
Savannah then admitted the whole incident started when she said:
"I'm going to bring you in to say hi to Matthew. And [Hoda] said, 'Alright, but if something's going on with you two and it's great, you don't need to bring me in.' And I said, 'Well, yeah, if there's some magic happening, then I won't.' And then she turned to me and said something else."
Hoda added, "I said something about if you all are virtually making out, I was kidding. I was kidding, I was kidding, because who doesn't want that."
You can watch the whole bit here:
It was so embarrassing, but Matthew seemed to laugh it off and called the whole moment "flattering" and a "great way to start out the day."